ALINA, ALINA LIFE, Cradle to Cradle Certified, exposure assessment, Innovation, Material Health, new materials, Sustainablility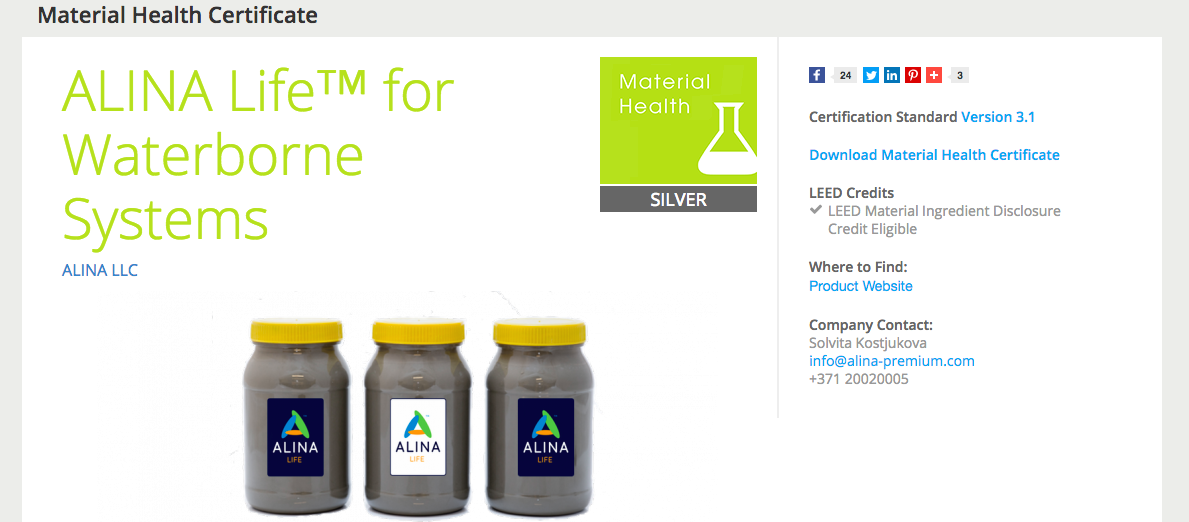 ALINA LIFE product is awarded with Silver Material Health Certificate.
The Material Health Certificate is awarded to products assessed against the requirements in the Material Health category of the Cradle to Cradle Certified™ Product Standard. The Material Health achievement level (Basic, Bronze, Silver, Gold, or Platinum) is shown in the certificate's upper right corner. A Material Health Certificate does not indicate that a product is Cradle to Cradle Certified™, which requires assessment against all five Standard categories. The Cradle to Cradle Certified™ Material Health Assessment Methodology is a contextual assessment based on chemical hazard identification and qualitative exposure considerations during a product's final manufacture, use, and end-of-use. The exposure assessment is highly simplified and more conservative compared to a conventional, quantitative risk assessment.
Description: ALINA LIFE is a multifunctional filler material, designed to be environment-friendly, easy-to-use, and to prolong the life and improve the striking appearance of eco & natural finishing products. ALINA LIFE is suited for use in waterborne primers, paints, stains and lacquers.
ALINA, ALINA LIFE, Cradle to Cradle Certified, exposure assessment, Innovation, Material Health, new materials, Sustainablility